Picture Day is Saturday, September 16th – GSA Complex (East end of complex/behind concession stand)
Note: Teams should arrive 10 minutes before scheduled team picture time to ensure all players arrive for photo. Photo forms are available online or on photo day – Forms will not be distributed in advance. Photo forms are required only if making a purchase – Please print in advance and have ready on picture day.
GSA is partnered with ATX Sports Photos. ATX Sports Photos has been in the sports photography business for over 18 years and provides photos for many area sports programs. Memory mates containing the individual photo & team photo may be purchased along with other photo products directly from ATX Sports Photos. Photos can be purchased in advance online or on photo day.
Skip the line and pay online! If the pre-paid offer is chosen, players will receive 2 free wallet size photos. The prepay offer option is only available until midnight on Friday, September 15th.
PLEASE PRINT AND BRING YOUR PREPAID TICKET WITH YOU TO PICTURE DAY TO RECEIVE YOUR 2 FREE WALLETS. If you choose not to prepay, you can order on picture day.
To get started, visit the links below to access picture information which includes the photo schedule, product information, price list, order form, and payment information.
Picture Schedule, Product Catalog, Price Sheet, Order Form, Prepay Here
Fill out the order form online then print and bring order form to picture day
Or print the order form, complete in ink & bring order form to picture day.
Or pick up an order form at picture day, complete and turn in.
Choose your method of payment - credit card, check or cash are accepted. Credit cards can be swiped on location at picture day.
Pricing and packages are good on picture day only
Please Note: The following recreational teams will be scheduled for photos on a practice night due to game time/travel schedules on September 16th. Details to come.
U10G Strikers, U11G Legends, U11B Flash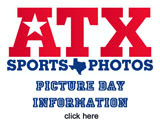 GSA Contact for questions: Cindy Vasquez cvas8898@aol.com or 512-818-0240